About author
Party42nite
Five media trends to look out for in 2020
Wondering what 2020 has in store for the media industry? media update's Aisling McCarthy walks you through five of the media trends that you can expect to see in the new year.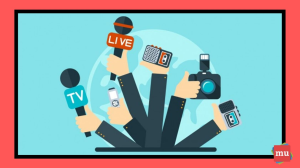 2019 is drawing to a close, and that means it's time to reflect on the year that has been and look forward to the new year.
The media industry has seen numerous highs and lows throughout the year — from a number of journalists being laid off to an increase in paywalls and print publications becoming a luxury item.
So if you're wondering what 2020 will hold for the media sphere, here are five of the trends that you'll see:
1. Quality over quantity
In 2020, expect to see a deeper focus on quality from media houses. While there is value in sharing news first, the new year will see greater focus on sharing the best quality information.
Media houses will need to diversify their media content, sharing news fast on social media, and then sharing news best in online and print publications.
The quality of content will be of utmost importance in 2020. With numerous media titles having closed down over the past few years, the ones that remain will be the ones of the highest quality. Nothing stands the test of time better than great content that audiences want to engage with.
2. New writing styles
Since there are already so many mediums competing for audiences' attention, 2020 will make it even tougher to break through the noise. Because of this, you can expect the media to take note and create content designed to be 'snackable'.
Audiences are constantly bombarded by information, regardless of where they are. Online, there are hundreds of pop-up ads, flashing images and endless emails; while in the real world, every person is glued to their cellphones, unable to ever really do anything in peace.
We are living in an age where attention is more divided than ever — and that's exactly where skimming comes in. As people race to finish their daily tasks, they only have a few moments to allocate to reading content — no matter how well written it is.
People are busy, and hardly anyone has the time to read through an entire article — so expect media folks to embrace this fact.
2020 will be the year of content that lends itself to being skimmed — think TL;DR, infographics and clear, concise subheadings.
3. More niche communities of value
While the Internet has allowed people the opportunity to connect with anyone — anywhere — for the most part, people want to connect with other people, much like themselves. Social media platforms such as Facebook, YouTube and Instagram have thrived on creating small communities based on people's common interests.
In 2020, you can expect to see more digital communities cropping up based on various factors. The future is set to be more vivid and live with video streaming, live blogging and comments with meaningful moderation.
Rich user interaction is an important goal in these digital communities — healthy conversations with GIFs, emojis and images along with the text.
4. Print is a premium
While naysayers have been predicting the death of print for about as long as anyone can remember, many brands saw the potential it had to offer their high-quality goods — and embraced it.
In 2020, you can expect to see print continuing its trajectory as a premium offering.
"Print is changing, print is different — print is becoming premium!" says Bernd Zipper in an article for Beyond Print. He continues, saying that this shift in print will, undoubtedly, have consequences.
"Digital isn't going anywhere, we all know that. From a branding point of view, it provides a necessary consumer touchpoint. But when it comes to conveying the subtle qualities of taste and authority, print is simply miles ahead."
London-based creative agency SO Creative states that for luxury and aspirational brands, print will always be one of the best mediums to deliver brand cues.
Why is this, you ask?
Well, the agency believes that online's accessibility is what takes away from the luxury aspect. Luxury, by its very nature, is for the elite — so online simply cannot be luxurious. No matter how upmarket your website, anyone with an Internet connection can see it.
"Real luxury brands have to carefully select a few privileged people and provide them with a view from Mount Everest [where] the view is a little more exclusive … The Internet's ubiquity harms luxury brands' exclusivity."
5. Innovative revenue streams
At the end of the day, profitability is still the bottom line. The implementation of paywalls heralds the dawn of a new age for the media industry. In 2020, you'll see more publications utilising the paywall system to offer a new revenue stream.
A paywall is a feature of a website that requires users to pay in order to access the site's content. Paywalls are increasingly being used to limit access to journalistic articles so only those who subscribe to the site, or pay for access, can read the article.
The rise of paywalls represents a shift in Internet content, which has traditionally been free for users and paid for by advertising. As more and more print publications go online, the paywall has risen in popularity, providing news sites with a revenue flow.
There are two categories of paywalls:
Hard paywalls are set up with rigorous restrictions that prevent users from gaining any access to the site without subscribing.
Soft paywalls allow limited viewing of content free of charge
Early in 2019, Condé Nast announced that it planned to have all if its online articles — across all media titles — behind paywalls by the end of the year.
Why, you ask? The company is searching for ways to revive its growth. Many advertisers have moved away from print, and the fight for digital ad revenue makes nearly every publisher a 'David' versus 'Goliaths' like Google and Facebook.
And according to Condé Nast's chief revenue and marketing officer, Pamela Drucker Mann, "when you put a price tag on something, that must mean you have confidence in the product".